2023 Auction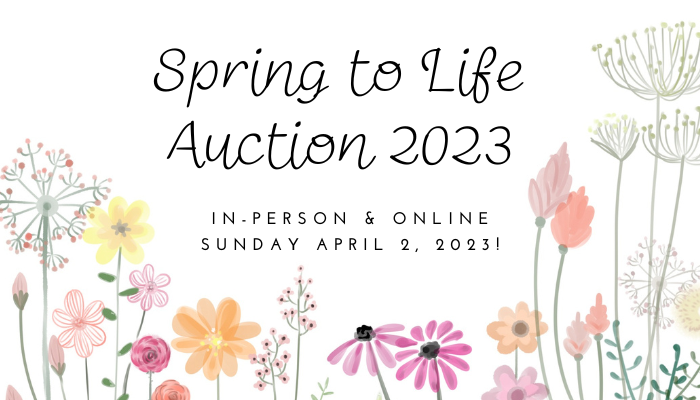 Let us Spring to Life at the annual Edmonds Unitarian Universalist Congregation auction! This year we are celebrating both in-person and online—it's up to you how you choose to participate, we are excited to spend this time with you no matter where or when you show up. Mark your calendars and get ready to have some fun, the Spring to Life Auction 2023 is here!
Auction Information
Live Auction (in-person) Details
Sunday April 2, 2023
Time: 12:30pm
Ticket price:

$25, which includes catered, box lunch by Panera Bread & beverage from our event bar. Children 16 and under are free, and childcare is provided.

Location: Chapman Hall
Auction Chair: Grant Boomer – auction.rsvp@euuc.org
Silent Auction (online) Details
Start date/time: Thursday March 30, 2023 at 6pm

End date/time: April 2, 2023 at 1:15pm

Location Information

Option 1: Mobile Device: 

Text

EUUC

to 71760 (not case sensitive)

Tap the link in the responding message

Option 2: Web Browser (any device with access to the internet):
Auction Preview
A chance to see the auction items before the bidding begins; this includes both silent and live items at the in-person auction event on April 2nd.  Preview mode is bare bones; it will look nicer once the auction starts.
Preview starts: March 28, 2023 at 6pm.

Option 1: Mobile Device:

Text EUUC to 71760 (not case sensitive)
Tap the link in the responding message

Option 2: Web Browser (any device with access to the internet):
Ticket Information
To reserve your place at the live auction, each person must register by purchasing a ticket. There are two ways to do this:
Purchase online from the EUUC Giving page

Registration starts: Open Now
Go to EUUC.org
From the EUUC Giving menu, select Give to EUUC
Scroll down and click on CLICK HERE TO GIVE NOW
Enter $25 then select Give to Auction Tickets



Purchase in person in the Narthex after Sunday services

Registration starts: March 5, 2023
Availability: Sundays after services until March 26, 2023
Last day to purchase tickets: March 28, 2023
For those who purchase tickets online through the EUUC website, Nancy Gladow will reach out through email to gather more information about your entree choice and if any children are attending. Please be responsive, this information is important to the auction organizing committee.
Donations Needed
Each of us has talents, knowledge, tools, and possessions that can generate auction items. People who enjoy cooking meals, baking desserts, or offering to host dinner parties are always a hit. Those endowed with repair skills and strength may chip in by weed pulling, hauling, or other handyperson services.
People can donate sunset cruises on the Puget Sound and weekends in beach cabins. Gifted crafters make things such as knit scarves and bead necklaces. Members share their expertise by donating a few hours of technical assistance, bird watching tours, or other lessons. People join together to host events, such as movie nights and parties.
Each auction item is made valuable by the talent, treasure, and time contributed by our friends in the EUUC community.
For donation ideas, check out the 2020 auction catalog or a prior list of items donated in past years.
Gift certificates to stores—online or in person are great—as are gift cards for local restaurants you like to support. Offer a concert, a demo cooking class, a dance night, or a crafting class. Prepare baked items that can be personally made and dropped off, or dinners that can be delivered. Create a themed basket of your favorite chocolates, beers, wines or other items.
Please use the following donation link to donate an event or an item to be auctioned off: Auction Donation Form
Once you've completed the Auction Donation Form, please submit a photo for your item or event so that it can be viewed on our virtual auction site and displayed on the screen at our live auction. Send your donation photos to Nancy Gladow at: euucauction@gmail.com
Auction Donations Deadline: March 22, 2023
Fund-A-Need: See the Service, Hear the Service
Our Auction always includes a special raise-the-paddle item coming from a need or an idea from the congregation. This year our Fund-A-Need donations will be used to fund technology upgrades. Over the past few years, we have relied upon this equipment to keep our community connected when we couldn't be together in person. Now it's time to upgrade so that we can continue supporting our growing congregation from wherever we are able to participate.
The new technology upgrades will improve our in-person and online experiences by offering clearer audio, efficient lighting, and a stable internet connection for live-streaming from both Chapman Hall and remote guest speaker locations.
This is a way for us to collectively help out with a special need. We hope you'll give generously!

Note: If you're coming to the live auction, please wait to make your donation in person at that time.
Honoree Tie Recipient
EUUC has a long tradition of gifting a loud tie to a member of the congregation who is required to wear it to at least one Sunday service. The tie is in honor of one of our founding members, Stewart Chapman, who wore a loud tie himself. He was a wonderful generous man who helped our congregation thrive in many ways. We honor a member who follows in his footsteps, giving of themselves to make our congregation the wonderful place that it is. We make contributions to EUUC toward the honoree during the auction each year. Please include a contribution to the Honoree Tie in your auction bidding!
Note: If you're coming to the live auction, please wait to make your donation in person at that time.
Winner Announcement: Rachel Maxwell!
We are delighted to announce that Rachel Maxwell is the winner of this year's Honoree tie! For decades Rachel has been contributing her time, considerable skills & talents, and tireless energy for the benefit of our EUUC community.
Rachel was president of our Board of Trustees during COVID, has led our stewardship team, served on the committee that drafted our current mission statement as well as the ministerial search committee that led to our calling Rev. Kaminetzky, to name only a few. And she does it all with such good heart & grace!
In the words of Rev. Kaminetzky, "Rachel Maxwell has come to devote part of her life's energy to helping Unitarian Universalism and Unitarian Universalists thrive, and we are the better for it. Her generosity of spirit and labor moves mountains." Join us in recognizing Rachel at our in-person live auction April 2.
Auction FAQ
How do I bid online?
There are two ways of bidding online: Mobile Device & Web Browser. It is the same system we've used the past few years when we had only a silent auction.
Bid via Mobile Device (smartphone with text messaging enabled):
Text

EUUC

to 71760 (not case sensitive)

Tap the link in the responding message.

Get to bidding!
Bid via Web Browser (any device with access to the internet):
Go to:

https://text2bid.net/kiosk/euuc

.
Enter your Bidder Number, First Name, and Last Name.

Get to bidding!
Can I bid online and attend in person?
Yes! The auction number you are assigned is the same for the online and live auction events. When you attend in person, you'll want to bring your smartphone with you, as you may want to do more bidding on the silent auction items. For the live auction, you'll be given a paddle with a number, which you raise to bid.
What device(s) will online bidding work on?
Any device that has internet access. It works best on a smartphone, as you can receive texts when you're outbid on an item, and it gives you an opportunity to bid higher.
Can I bid before a certain date/time?
The silent auction (online) starts Thursday March 30, 2023 at 6pm and ends April 2, 2023 at 1:00pm.
What about COVID?
Attendees are required to be vaccinated to attend the auction, in keeping with our vaccination requirement to attend Sunday services.  Masks are required Yes, except while eating and drinking.   
The auction has been planned with the advice of our COVID Advisory Team.  They've informed us of maximum safe capacity & we'll be seating fewer people per table than we might otherwise.  Chapman Hall has good airflow with its high ceilings and our new HVAC system.
If you'd like to attend the auction but prefer not to take off your mask, that is possible.  Here's how:  Eat lunch before you come.  Then take your catered, boxed lunch home with you and have it for dinner! 
Although COVID testing the day of the event is not mandatory, it is suggested.
Can I receive a refund if the event sponsor canceled/rescheduled?
Refunds should be requested in writing or email addressed to the auction chair and will be issued for the following reasons:
The event sponsor does not hold the event.
The event sponsor changes the date of the event and the attendee cannot attend on that new date. This does not include when alternate dates are announced in advance and appear in the auction catalog or bid sheets.
If you sign up for an event and later find you cannot attend, please inform the host of the event, and then take either of these steps:
Give or sell your place to another person. Finding a person willing to accept or purchase the item or event is your responsibility.
Donate the event item to the church and notify the Substitute Coordinator who will invite someone from the Event Substitute List.